JEWELRY STORE IN KING OF PRUSSIA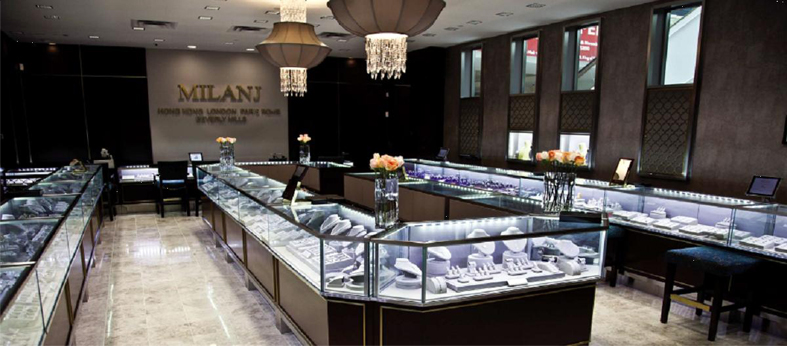 A truly regal name for a regal place, King of Prussia, Pennsylvania was named for the Enlightenment-era king, Friedrich II the Great. A man of remarkable learning, culture, and artistry, his memory provides an elegant history on which the city of King of Prussia has built itself. Here at MILANJ Diamonds, we're eminently pleased to be a part of the King of Prussia community, and we strive to live up to the ideal of refinement and artistry that one could find in King Friedrich II's Sanssouci Palace.
Brands Available at MILANJ Diamonds
The brands whose bridal and fashion jewelry we showcase work only with the highest quality diamonds and gold. For example, the delightful diamond offerings of Noam Carver and Tacori are without peer in the industry, blending vintage beauty with platinum-level luxury. The wedding bands from designers like Lashbrook and Carlex are masters of innovation, staying at the cutting edge of design with pieces like black cobalt, hardwood, and patterned meteorite. And when you're looking for fashion jewelry, the remarkable colors of Roman and Jules—the rubies, yellow diamonds, emerald, and sapphire—set MILANJ Diamonds at the head of the pack.
When you're looking for the right jewelry to meet your tastes and needs, remember to make our King of Prussia jewelry store your first stop.
Diamonds Available at MILANJ Diamonds
As the name of our business implies, our collection of loose diamonds is a point of pride for us here at MILANJ Diamonds. Our experience with every woman's favorite jewel has given us the ability to sort diamonds from dross, and we adore showing our selection off to our customers. Our hundreds of GIA-graded loose diamonds range from Asscher- to round-cut, and we offer an extensive filter that allows a woman to select a diamond according to the 4 C's of diamonds, as well as other rarefied factors that one wouldn't be able to find with other stores. These filter tabs include fluorescence and color, depth and table percent, girdle, and polish, among others.
Our customers may also love our house-designed line of diamond jewelry. We have such a passion for diamonds that we've put together bridal and fashion jewelry of our own. We take advantage of remarkable diamonds and silky-smooth platinum to make luxe tennis bracelets, blossoming halo engagement rings, and gleaming diamond stud earrings. MILANJ Diamonds isn't just the top jeweler in King of Prussia, we're the top designer in the area too.
Shop at MILANJ Diamonds in King of Prussia, Pennsylvania
For over 35 years, MILANJ Diamonds has been proud to serve exceptional jewelry to the men and women of King of Prussia. We've spent decades showcasing the most refined designers' work on the market, and we always love finding new pieces of diamond elegance to show off to our customers. Our commitment is to making life sparkling, and if you'd like to find out more about what MILANJ Diamonds has to offer you, visit our King of Prussia, Pennsylvania showroom today or give us a call at 610-992-0707!