TRADE IN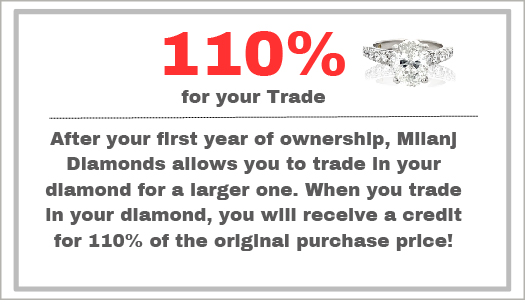 Lifetime Diamond Upgrade at MILANJ Diamonds
At MILANJ Diamonds, we understand that people often have a good reason to want to upgrade their diamond. Sometimes, people get married early in life and want to celebrate later good fortune or greater stability by going from a smaller diamond to a bigger one. Alternatively, you might have developed a fondness for a different kind of diamond later in life—going from a round to a princess cut, for example. Of course, your reasons for upgrading are your own! At MILANJ Diamonds, we've heard a thousand amazing stories, and we always strive to be a sparkling part of your personal story. To that end, we offer a dazzling upgrade plan to our customers!
How to Upgrade Your Diamond
The original owner of a MILANJ Diamonds engagement rings' diamond will be allowed to put 110 percent of the purchase price of that diamond toward another diamond of equal additional value. The value of the diamond will be determined by the exact purchase, but at MILANJ Diamonds, you can be assured that you'll always be able to find the diamond of your dreams. We showcase some of the most remarkable diamonds in the world, and whether you're looking for a stone with a particular polish, carat weight, shape, or any of a dozen other qualities, you'll find what you're searching for in our diamond search tool!
The original owner will be allowed 110% of the purchase price of the diamond towards the purchase price of another diamond engagement ring of equal or additional value, providing your diamond article is undamaged and there are no diamonds missing from the mounting. The value is determined by the exact purchase price shown on the original receipt. No taxes are recoverable. Due to wear, mounting will be accepted as part of the trade-in and will be valued at the price of gold or platinum at the time of trade-in.
Why Shop at MILANJ Diamonds?
MILANJ Diamonds has been serving the King of Prussia area for decades, and our status as the area's most prestigious jeweler of luxury jewelry and diamonds has been cemented by our passion for the craft. We understand that our customers often have a desire for something new in their lives, or something a little more glittering, which is why our lifetime diamond upgrade policy was instituted for the benefit of our customers. If you're interested in learning more about our diamonds, our policies, or the luxury jewelry we offer at MILANJ Diamonds, don't hesitate to give us a call today: You can reach our King of Prussia, Pennsylvania showroom at 610-992-0707!