Luxury at its Finest: The RoyalT Bridal Collection from Tacori
May 3rd, 2019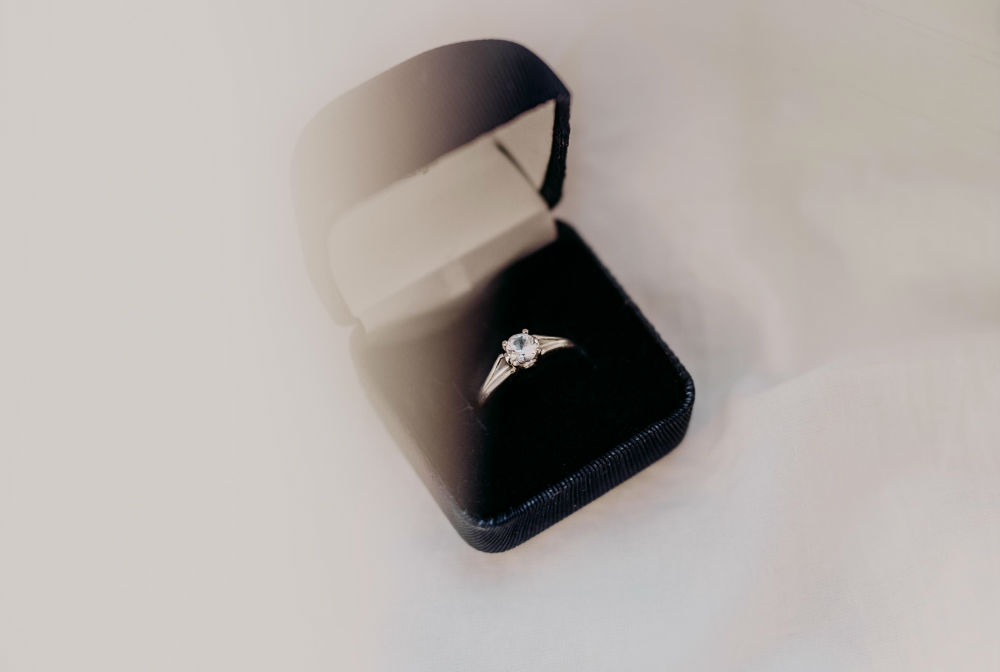 The Tacori brand is based out of California, and promises to bring a stylish legacy to every one of their stunning pieces. Since 1979, Tacori has been creating iconic jewelry designs for fashion and bridal wear.
Gilda and Haig Tacorian began to work as jewelers in America with Gilda's father in 1972, creating vintage designs in California. Today, the Tacori RoyalT collection is a collection designed with utmost refinement in mind. Crafted of silky platinum, Tacori brings new life to bridal jewelry with pieces specifically designed to hold diamonds two carats and larger.
A Royal Beauty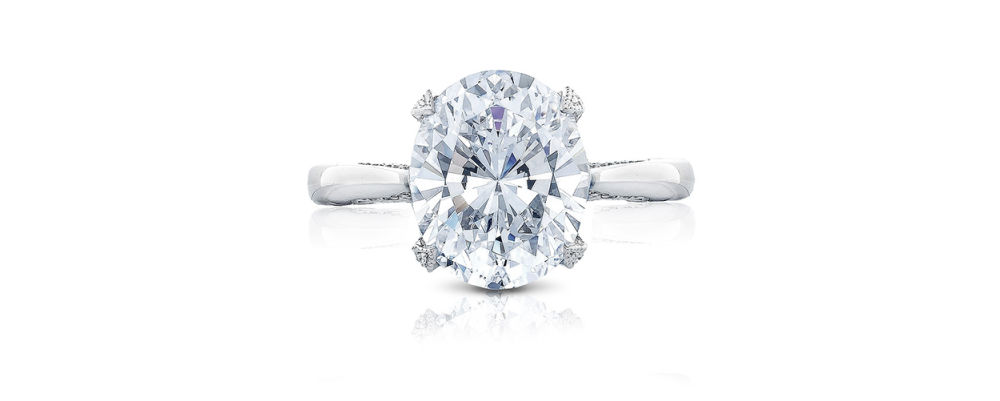 This simple yet striking design from the RoyalT Tacori collection is perfect for the bride to be with an elegant and timeless sense of style. The signature Tacori crescent is beautifully accented with diamond side stones, and the same diamond-studded crescents form the sides of the shank, as well as cradle the oval-cut center stone. While this engagement ring appears to have a solitaire setting, there's a playful touch added, revealing a treasure trove of diamonds when its sides are viewed. Platinum finishes off this design from Tacori, though it can be chosen as a 18k rose or yellow gold option as well.
Intricate Elegance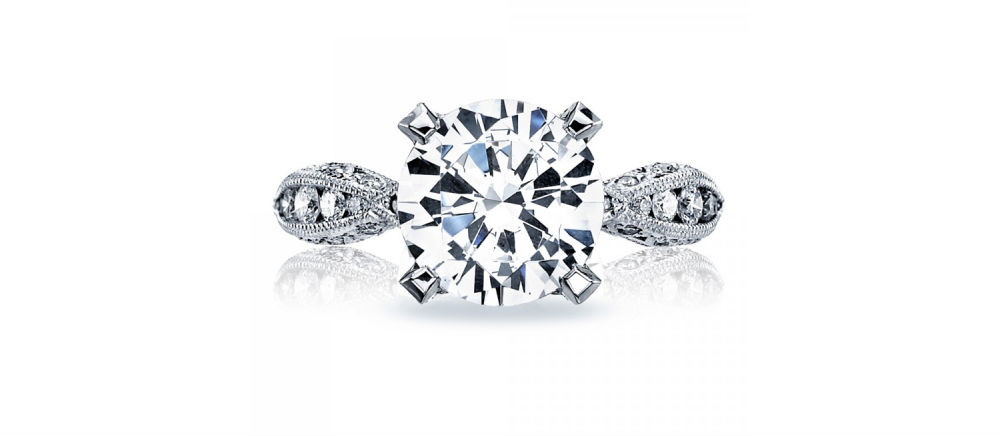 Another design from the Tacori RoyalT collection, this engagement ring is unique and stunning. A round-cut center stone is the star of this piece, framed by intricate milgrain beading and pave-set side stones on every face of the ring. Two bands intertwine with each other to represent the intertwining of two separate lives into one. The bands are studded with brilliant diamonds, helping bring out the beauty of the round center stone. This is the engagement ring for the bride to be who loves to stand out.
A Bold Statement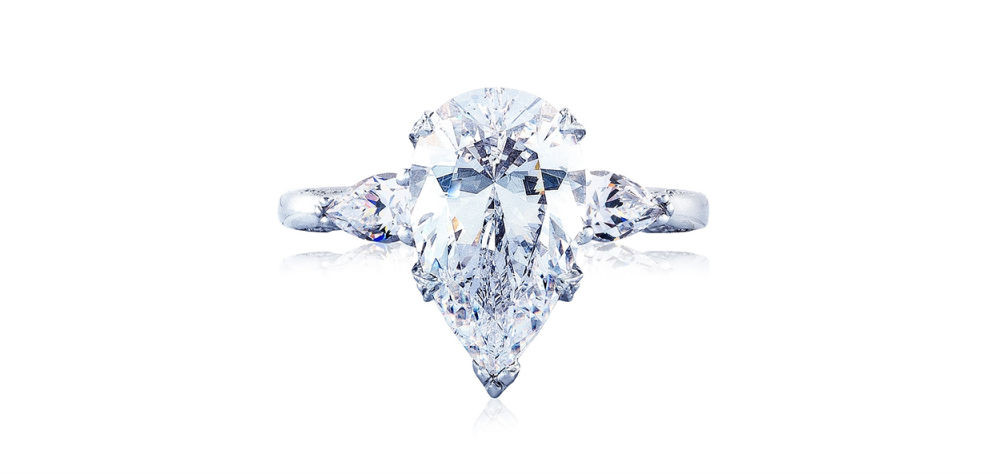 This three-stone engagement ring design from Tacori makes a bold statement. The band is accented with two glorious pear-cut diamonds that repeat the motif and shape of the inverted pear-cut center diamond that uniquely plays up the vintage elegance of the ring. As always, with any Tacori piece, the crescent detailing lacing along the side of the band marks it as a signature Tacori piece. This beautiful piece of bridal jewelry is sure to leave a lasting impression on any bride to be.
Fit for a Princess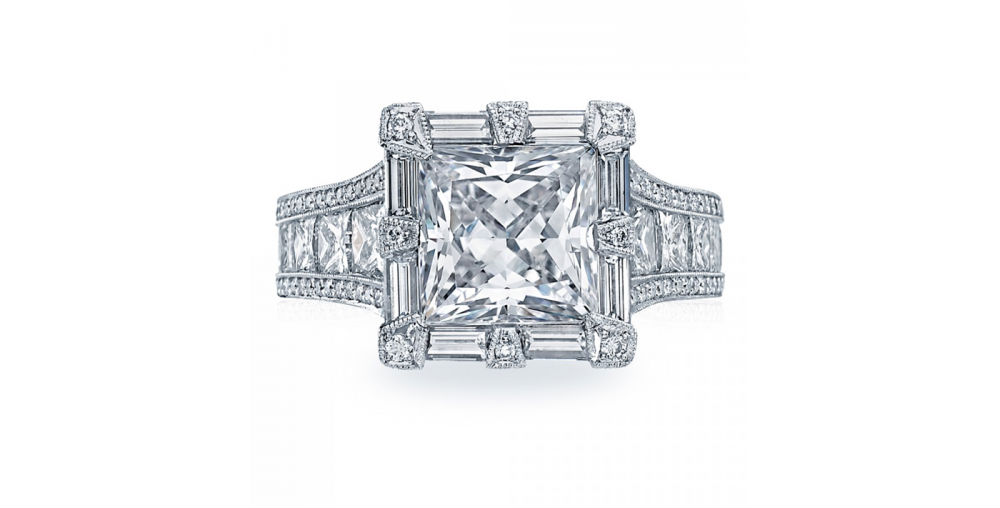 The Tacori RoyalT collection features this striking and glorious engagement ring. Characterized by a princess-cut diamond, the halo of baguette-cut diamonds whose joints are round-cut diamonds frame the elegant and feminine princess cut. As with every RoyalT piece, this piece of bridal jewelry is sculpted from luxurious platinum, so for the woman with an Art Nouveau sense of style, this engagement ring would fit perfectly with a bold engagement choice.
A Sparkling Oval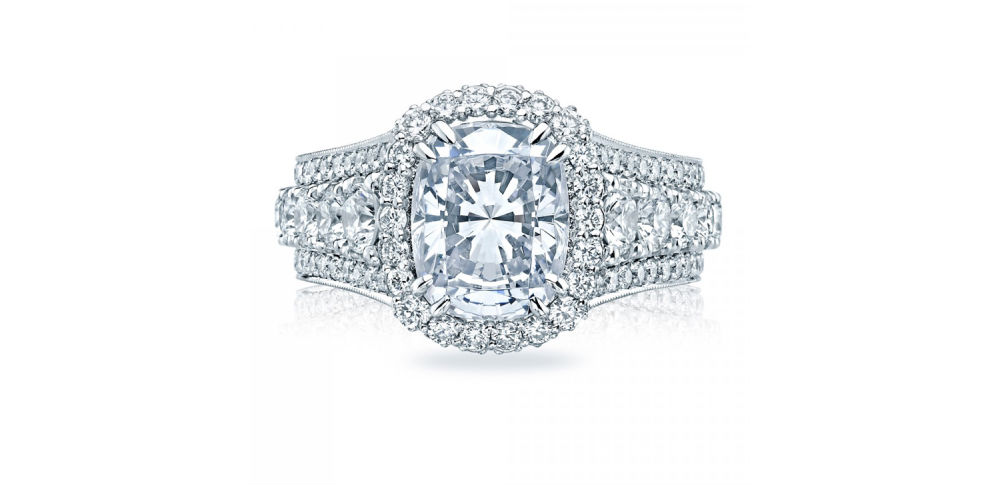 An engagement ring from Tacori is always timeless and beautiful. The diamond-rich ring band takes the fire and sparkle from the oval-cut diamond in the center and spreads it through a halo of round-cut diamonds and enough pave-set side stones to take any jewelry lover aback. Luminous and stylish, this engagement ring is ideal for the modern bride. An oval-cut diamond adds just the right amount of interest to make this piece unique and effortlessly fashionable.
Uniquely Modern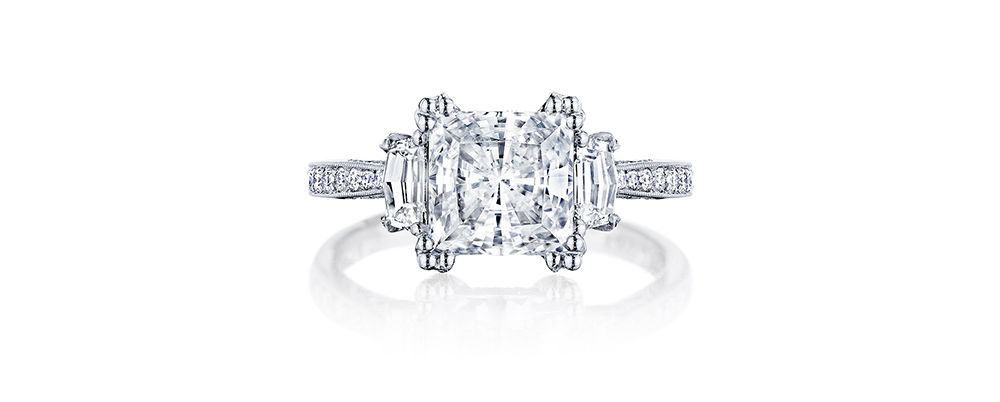 The signature Tacori crescent detailing is present on this modern and geometric engagement ring. The center stone is princess-cut, making it brilliant in every sense of the word. The center diamond is framed by two angular, surprising step-cut trapezoid diamonds, reflecting light from within the center diamond and giving it an architectural profile that stands out from other rings with more common cuts. This piece of jewelry is perfect for the contemporary bride who loves glamor but wants to take her own path in life.
To inquire further or to make a purchase, contact our showroom at 610-992-0707 or visit online.