Take Her Breathe Away With a Halo Rose Gold Engagement Ring
October 6th, 2017
Rose gold has recently seen a huge growth in popularity within the fashion and bridal jewelry world. Rose gold is made from a yellow gold and copper alloy that is more durable than most other metals. On top of durability, this romantic and dramatic metal type is seen in a variety of engagement ring styles to fit anyone's fashion sense.
If you're looking for an engagement ring that will make her jaw drop, consider going with the halo engagement ring type. In a halo ring, the center diamond is surrounded by smaller stones to increase surface area and make the center stone appear larger than it really is. A rose gold halo engagement ring is the perfect statement piece if your significant other likes to be the center of attention.
Looking for a chic, cool, and sophisticated rose gold engagement ring? Check out these on-trend and timeless pieces available from some of the most recognized jewelers in the world.

Tacori's Blooming Beauties
Tacori's Blooming Beauties Collection features engagement rings with center diamonds that spring forth like a blossoming flower during the first days of Spring. This specific rose gold beauty has two rows of pavé set diamonds around the center stone to give your diamond a larger than life appearance.
The highest pavé setting features distinct and bold details that serve a functional purpose to protect the ring from wear and tear, but also accentuate it. The lower pavé setting carries a simple, yet refined appearance to create balance and harmony on this rose gold masterpiece. This handcrafted design is a timeless heirloom she is sure to love.

ArtCarved's Contemporary
Some of the magnificent rose gold halo engagement rings featured in this collection have not just one, but two surrounding halos making the center diamond appear huge. ArtCarved's Contemporary Collection does an excellent job of fusing modern shanks with embellished prong settings. With a straight diamond prong set shank, the Artcarved 31-V449DRW-E rose gold engagement ring is sparkling from top to bottom and side to side.
The round center diamond is surrounded by a cluster of small and miniature diamonds with hints of the pink-hued metal shining through. No matter what type of color stone you love, the rose gold halo engagement ring will complement it all, making it one of the most versatile jewelry metals.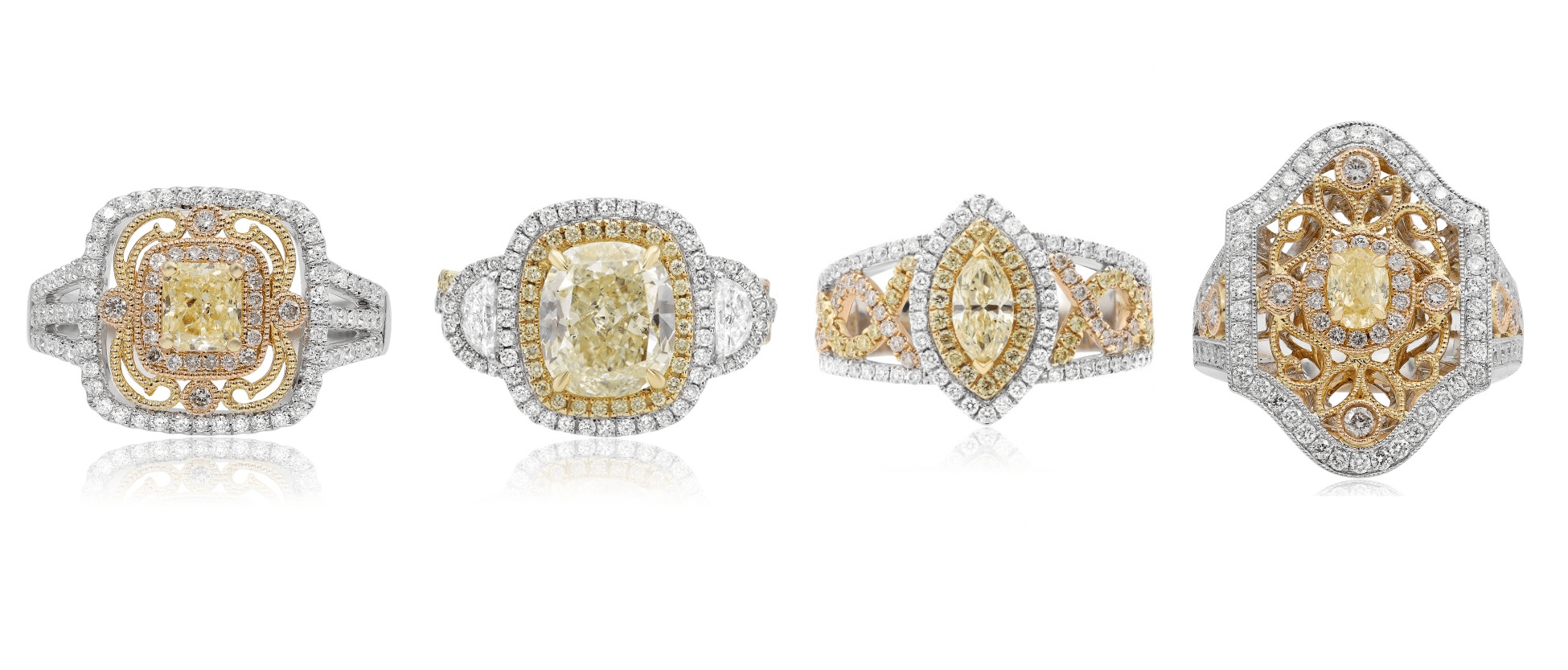 Roman and Jules Yellow Label
Roman and Jules' Yellow Label Collection makes the most out of its stunning yellow center diamonds. While the Roman and Jules UR1547WYR-18K-2 engagement ring isn't completely rose gold, it uses rose gold accents to amplify the brilliance and elegance of the primary metals. This halo engagement ring incorporates 18K white gold, 18K yellow gold, and 18K rose gold for a masterful display of colors.
A whopping 106 diamond stones adorn this vintage, milgrain style engagement ring. It's hard to miss this alluring ring and is sure to make her say "I do" when you pop the question. No matter what her style, this halo engagement ring uses rose gold sparingly to show off its ability to complement other metals.
These halos rose gold engagement rings are versatile, sophisticated, and brilliant. The tiny delicate diamonds that surround the larger center stone paired with the rich and luminescent rose gold metal combine to create a stunning ring that is modern and vintage at the same time. You're sure to stand out with these rings.