The Top 4 Metals Used in Men's Wedding Bands -- Which Would You Choose'
February 11th, 2019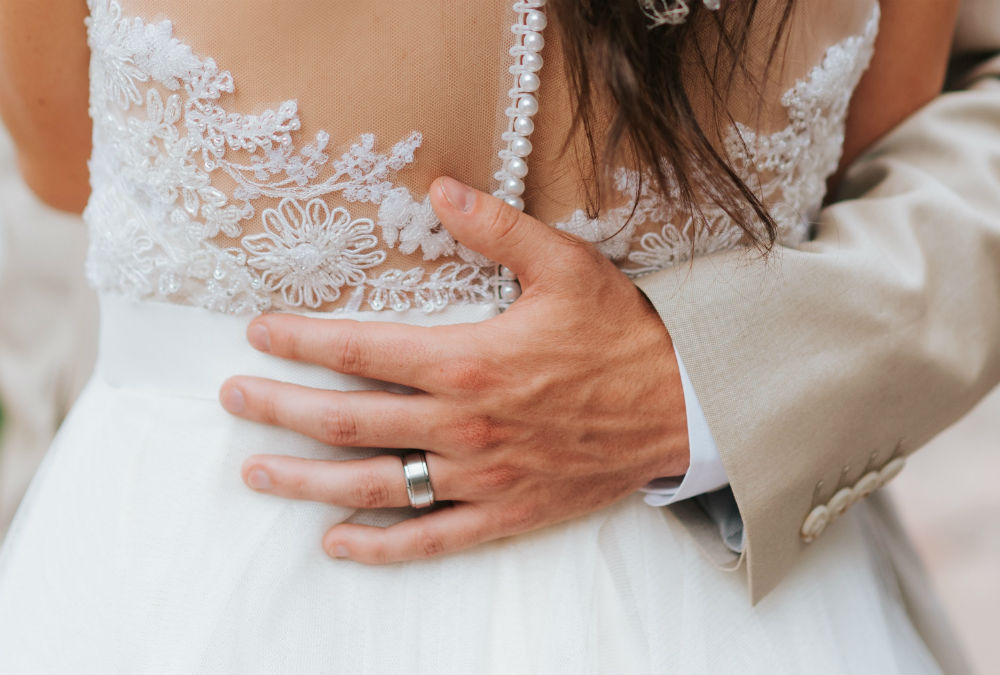 Here at Milanj Diamonds, we have a wide variety of men's wedding bands from the top designers in the industry. And what makes them even more special is that other than their one-of-a-kind styles, these designers craft their masterpiece wedding bands in a shockingly wide array of metals.
But since a wedding band is likely the only jewelry that an average man is going to wear in his life—he might just be hopeless when it comes to picking his band.
Brides-to-be, this guide's for you. To help your beau find the band for his temperament, Milanj Jewelers has put a handy guide together about the most popular metals bands are made from:
Platinum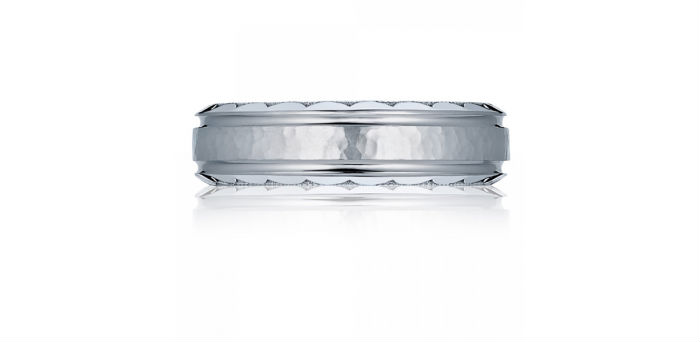 The most precious of the precious metals, platinum is the metal of emperors. Platinum is about 30 times rarer than gold. The metal is very dense and heavy, but this doesn't stop it from being engraving or resized. However, it must be remembered that platinum will develop a patina over time, changing its unique silvery appearance into something more like old coins or gunmetal.
If your man loves metal that carries its history with it, platinum might be the right metal for you, though. Check out the textured gold-accented platinum wedding bands from the Tacori Sculpted Crescent collection to see the best that platinum can offer a man.
Yellow Gold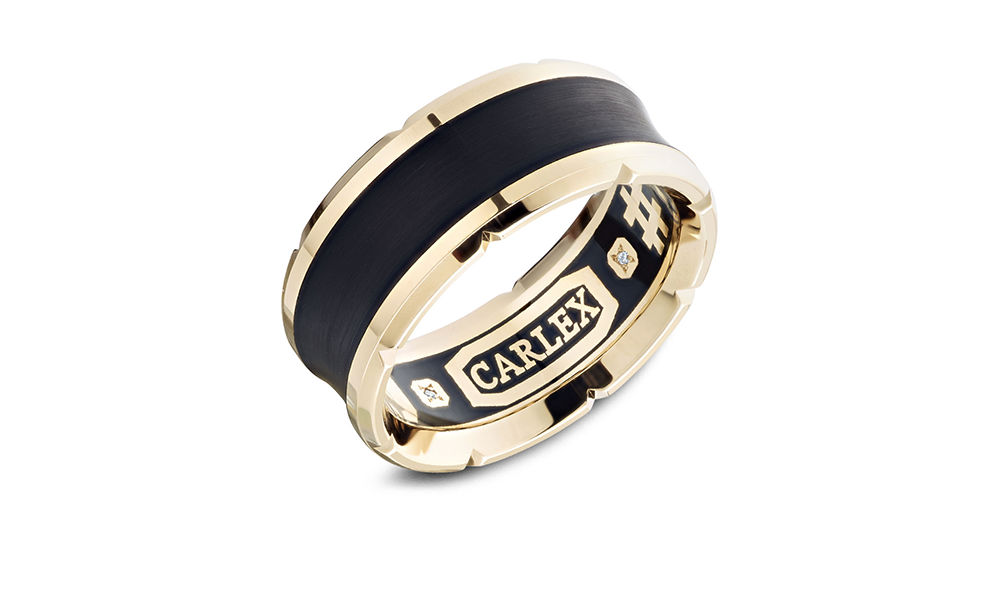 Yellow gold is the most traditional color for wedding bands, men included, and if your man likes the bright color of yellow gold and the weight of tradition, yellow gold might be right for him. The downside of yellow gold is that it's the most expensive tone of gold and the most susceptible to dents and scratches. But the upsides include the fact that its 18k alloy form is hypoallergenic, yellow gold is lightweight, and it isn't going to get a patina or discolor over time.
The Carlex G4 collection not only embraces the way yellow gold can carry brushed textures but has fascinating enamel lining on the inside for comfort, protection from wear, and expression of a man's personal style.
Rose Gold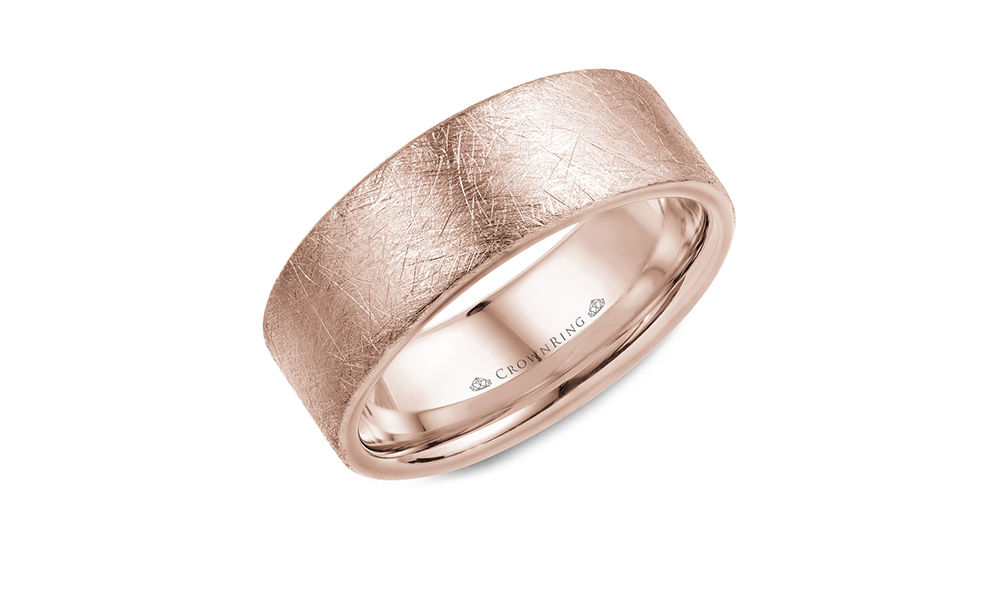 Rose gold is an interesting choice for a men's wedding band. Because of the growing popularity of rose gold in women's wedding bands, more men have been selecting it to pair with their wife's band. It's a color for a man comfortable with his style, but it also is far, far more durable than yellow gold thanks to the 25 percent addition of copper in the alloy. The downside? Because of the copper, this metal may trigger allergies in a man sensitive to it.
CrownRing provides many different rose gold wedding bands for men with their incomparable textures added, as well as pairing white diamonds with the ruddy color of rose gold.
Exotic Materials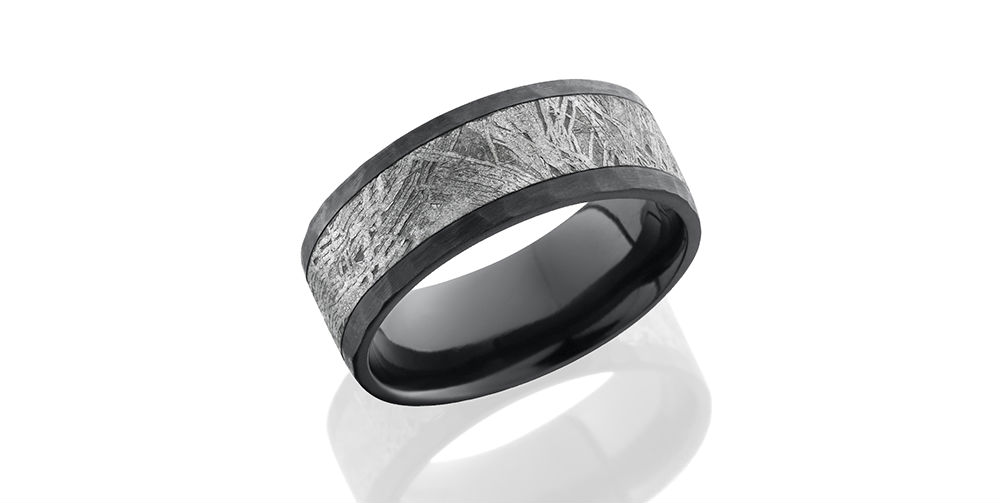 Modern science and design have allowed designers to transform heretofore unused metals into precious, amazing wedding bands. From tungsten and cobalt to titanium and zirconium, there's always an exotic metal ready for the man who wants something off the beaten path or needs a specialized metal band for his field of work.
One of the most avant-garde choices in men's wedding bands is the Lashbrook Meteorite collection. Named for the Gibeon meteorite used in the construction of each band, these pieces have patterning in the iron that can only develop over millions of years of cooling in space. A majorly cool collection for a majorly cool man.
If you're interested in finding out more about the different types of metal that can be used in men's wedding bands, contact Milanj Diamonds at 610-992-0707 or visit us at our King of Prussia, Pennsylvania showroom today!